cat. Chasse 2020 p.676
BIO BBs 0,25g x 5100 bottle
Ref.
Item designation
Category
Weight (g)
Colors
MSRP
Stock

Ref.

BB3311

Item designation

BIO BBs 0,25g x 5100 bottle

Category

Free sale

Weight (g)

0.25

Colors

White

MSRP

18.50

€ incl. tax
The available products can be ordered by your gunsmith who will be delivered in 24 / 48h, unavailable products are being replenished, but your gunsmith may have in stock, ask!
- Biodegradable compound plastic construction.
- 6mm competition grade seamless airsoft BBs.
- Bottle includes 5100 airsoft BB rounds.
- BBs decompose 180 days after use when exposed.
- Ensure full precision on the field with quality BBs.
Diameter : 5,94mm + 0,001
Bio
Color : white
Box of 6 bottles
The recommended retail prices are listed as a guide..
Pictures are not contractual. Photos of product may be different with the final products.
Link this product
---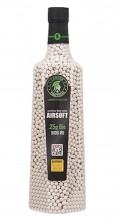 ---