cat. Chasse 2020 p.677
BIO balls in 1 kg bag
Ref.
Item designation
Category
Caliber
Shots
Weight (g)
Grams
Colors
MSRP
Stock

Ref.

BB8518

Item designation

0.28 g

Category

Free sale

Caliber

6 mm airsoft

Shots

3500

Weight (g)

1000

Grams

0.28

Colors

White

MSRP

25

€ incl. tax

Ref.

BB8519

Item designation

0.25 g

Category

Free sale

Caliber

6 mm airsoft

Shots

4000

Weight (g)

1000

Grams

0.25

Colors

White

MSRP

22

€ incl. tax

Ref.

BB8520

Item designation

0,20g

Category

Free sale

Caliber

6 mm airsoft

Shots

5000

Weight (g)

1000

Grams

0.2

Colors

White

MSRP

20

€ incl. tax
The available products can be ordered by your gunsmith who will be delivered in 24 / 48h, unavailable products are being replenished, but your gunsmith may have in stock, ask!
Very high quality biodegradable balls
Diameter 5.95mm +/- 0.01
Box of 12 sachets
1 kg bag, biodegradable.
Perfectly spherical balls
Carton of 12 sachets
The recommended retail prices are listed as a guide..
Pictures are not contractual. Photos of product may be different with the final products.
Link this product
---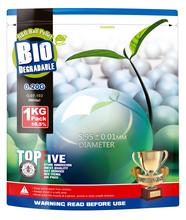 ---